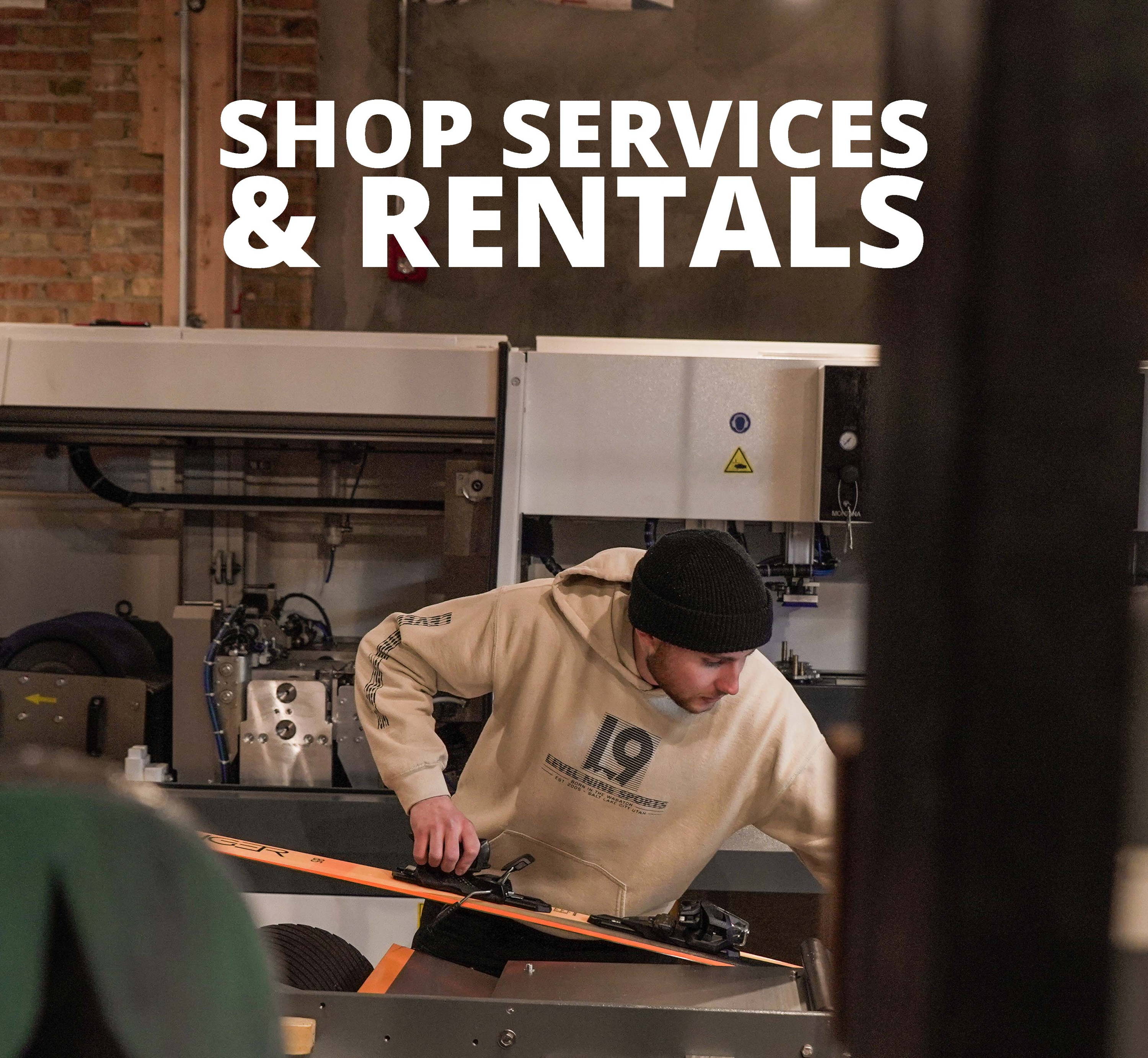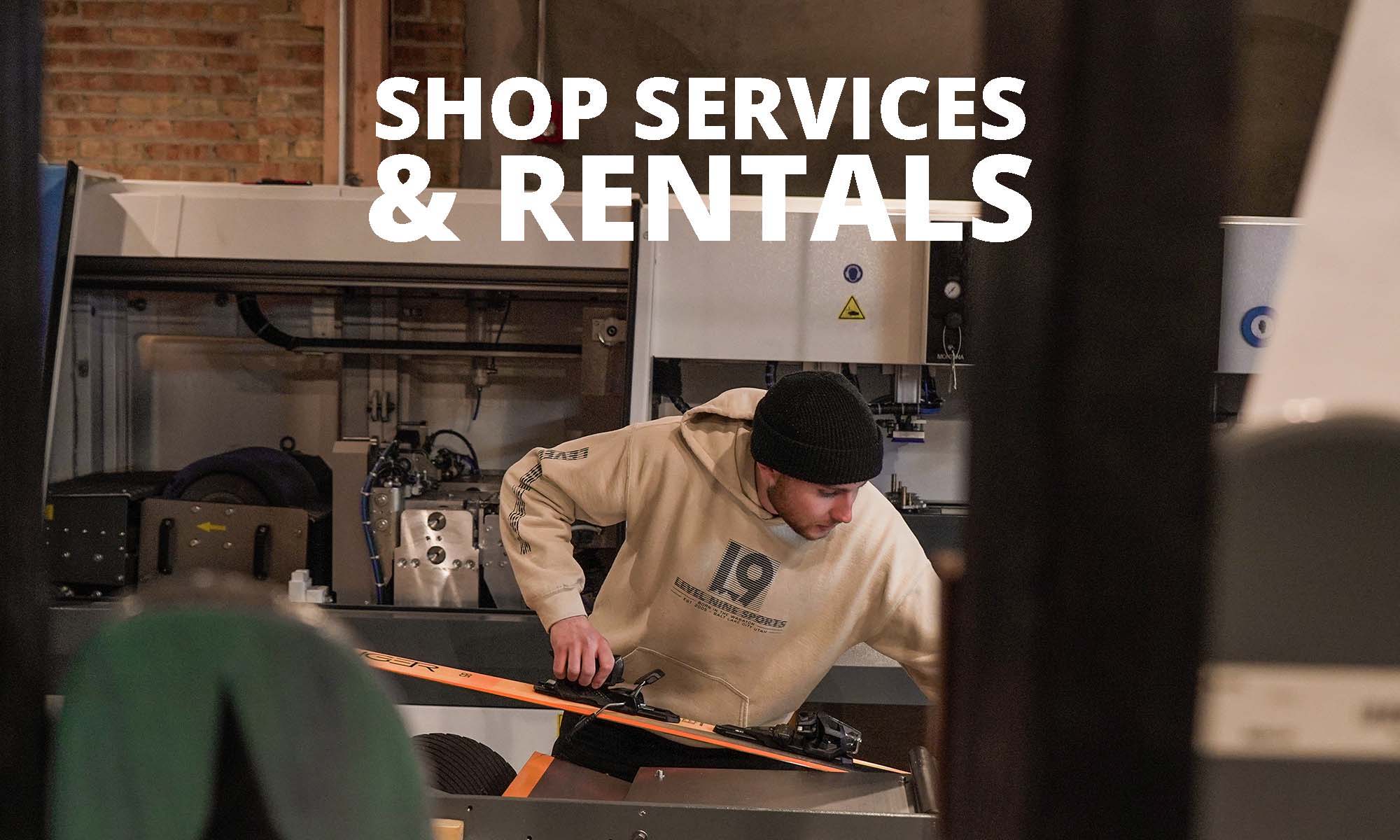 All four L9 Sports retail locations include a full-service ski/snowboard shop and full-service bike shop. That means when you need to maintain or repair your snow and bike gear, you can get the quality treatment you've come to expect from L9 for the great low prices that made us famous. We're all about providing value, all year long. So bring your gear by and let us get you back on the slope, road or trail.
$75 - Full Base Repair, Flattened with structure of choice, Hand edge bevel set to choice, Iron wax of choice.
$60 - Flattened and ground with structure, P-Tex Work, Base weld (additional $6/inch), Sharpen Edges, De-Tune Tip/Tail, Infrared Wax
$45 - Flattened and Ground with Structure, Sharpen Edges, De-Tune Tip/Tail, Buff Wax (*No P-Tex)
$25 - Flattened with Structure as Needed, Proper edge bevels set, Infrared Wax (*New Skis Only)
$25 - Sharpen Edges, De-Tune Tip/Tail, Buff Wax (*No P-Tex)
IRON WAX - $20
INFRARED WAX - $15
BUFF WAX - $7
DPS PHANTOM TREATMENT - $150
P-TEX PER INCH - $4
BASE WELD PER INCH - $6
Free - With purchase of Skis, Bindings and Boots
$25 - 2 of 3 Purchased at L9 (Skis, Boots or Bindings)
$50 - Purchased elsewhere
$12 - Snowboards
Price Varies - Full custom ski boot fitting including molding liners and shell work
$12 - Includes Release Test
$20 - Arva, Ortovox, Mammut, and BCA.
Full diagnostic inspection
Brake adjustment
Frame cleaning
Torque check on all bolts
All the adjustments needed to keep your bike running smoothly and extend the longevity of your components. An ounce of prevention is worth a pound of cure.
Full diagnostic inspection
Wheel true
Brake adjustment
Derailleur adjustment
Bearing adjustment
Bike wash
Been riding your bike a lot? Let's get that thing running like new again!
Strip down bike to frame, each part individually cleaned/inspected, and completely rebuilt to manufacturer specification

Install new bottom bracket and hub bearings

New cable and housing installation

Bleed hydraulic brakes

New brake pad and rotor installation
New chain, cassette, and chainring installation
New grip/handlebar tape installation
After a year of riding, a normal tune won't do it. Your bike will need a full day at the spa.
Full diagnostic inspection
Removal, ultrasonic cleaning, installation, and lubrication of drivetrain
Wheel true
Brake adjustment
Derailleur adjustment
Bearing adjustment
Cable and housing installation
Bike wash
SEASON SKI AND SNOWBOARD RENTALS

Kids' Early Bird: $79 (Sept 1-7)
Kids' Regular Season: $99
Adult Early Bird: $99 (Sept 1-7)
Adult Regular Season: $129
*Available While Supplies Last
More Info >>
DAILY SKI AND SNOWBOARD RENTALS

Kids': $20
Adult: $30
Current Year Demo: $60
Ski Pkg. Damage Waiver: $5
Snowshoes (Ogden): $15
DAILY WATERSPORTS RENTALS

Paddleboard: $45
Tube: $15
Inflatable Kayak: $45